🌟 Introducing group learning: Learn about low-code technologies with friends or colleagues by your side! 🚀 Amplify new possibilities together as a group. Apply today
Power Up Program
Prepare for tomorrow
Looking for new career growth opportunities?
By 2025, 70% of new applications developed by enterprises will use low-code or no-code technologies, up from less than 25% in 2020. (Gartner)*
Microsoft Power Up Program enables non-tech professionals to successfully advance into a new career path in low-code application development using Microsoft Power Platform.
Looking for new career growth opportunities?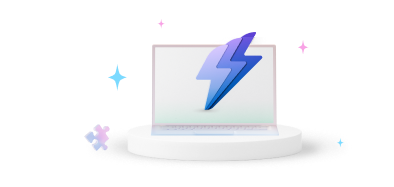 Learn with a guided curriculum
Discover new skills with interactive learning paths and hands-on labs, and you can attend instructor-led webinars.
Get certification vouchers
Program participants will be awarded vouchers to register for Microsoft Power Platform certification exams.

Receive recognition
By completing the learning paths, you'll be awarded community-recognized badges to help you advance or find new career opportunities.

Be part of a community
You'll have support along the way and will have access to experts, peers, and local events.
Liane Powel
Advanced her career from housing management to a Power Platform functional consultant.

Watch video
Dawn Peacock
Transformed her career from mortgage broker to a senior business analyst with Power Platform.

Watch video
Get started
Become an early adopter, join the program, and start your journey of establishing a career in the technology field.
Apply
Apply today to join a 3 month program.
Learn
Start learning in-demand skills of the future.
Get certified
Showcase your new skills and advance your career.
Apply now
Once you've submitted the form, a confirmation message will verify the successful receipt of your application. We'll communicate further updates and instructions via email. We appreciate your consideration of this opportunity.
Required fields
Loading...
Processing...
Frequently asked questions
No, you don't need technical background to sign up for the program. No coding experience is necessary.
The program offers a curriculum that spans approximately three months.
No, acceptance will be based on your application details. This program is focused on enrolling non-technical participants.
Participants are expected to spend, on average, 8-10 hours each week on self-paced learning, webinars, and completing module challenges.
Program administrators will reach out to you by email with an outline of your next steps.
Program administrators will reach out to you by email.
Group learning enhances the collaborative learning experience within our program. You have the opportunity to team up with friends or colleagues, share valuable insights, and embark on the low-code upskilling journey together. Enjoy the same benefits while adding a touch of friendly competition to the mix!
This program is virtual as of now. Yes, you can use a Mac, but you will be limited in some of the course modules (like Power Automate Desktop and Power BI Desktop), as some downloadable Microsoft products are only for Windows.
This program will offer a curriculum that will enable you to become a Power Platform citizen developer and prepare you to take
Exam PL-200: Microsoft Power Platform Functional Consultant
. After successful completion of this exam, you will be able to apply to jobs that require low-code development skills.
Have questions? I'm your virtual assistant!
Simply type your question about the program or curriculum to get started. I'm here to help.
Sample questions:
How long is this program?
Can anyone apply?
Volunteer opportunities are available
Are you already a Microsoft Power Platform specialist? If so, you can join as a volunteer to share your knowledge and career experiences, engage with future specialists by answering questions, or conduct a workshop.
* 2021 Gartner®, Magic Quadrant™ for Enterprise Low-Code Application Platforms. GARTNER is a registered trademark and service mark, and MAGIC QUADRANT is a registered trademark of Gartner, Inc. and/or its affiliates and are used herein with permission. All rights reserved.